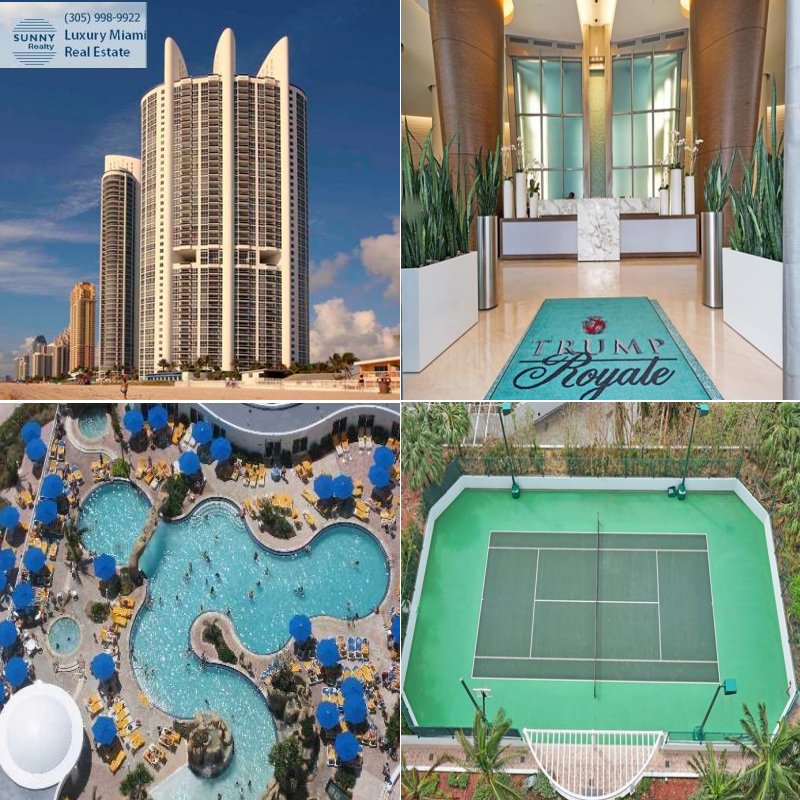 Trump Royale Sunny Isles is one of the most popular luxurious condominium complex in Miami Beach. It is located directly on the beach in Sunny Isles Beach, one of the most sought after area in South Florida. The Trump Royale Tower in Sunny Isles was constructed in the year 2008. It offers 278 units and is rising up 55 floors. There are nine different floor plans in Trump Royale Sunny Isles, varying from 880 to 6,430 square feet. There are also different numbers of rooms available along with bigger and better penthouses. So, depending on your requirements, you can choose a unit that fits virtually any size family into your own mansion in the skies.
Trump Royale was constructed from steel and glass so it looks elegant and elite. This condominium is very desirable and holds very good value in the real estate market. It offers highly luxurious units and amazing amenities for those who would like to purchase or rent condominiums. This place offers a greater return. But there are multiple reasons why you should choose this tower to purchase your own home.
Amenities Offered in the Trump Royale Sunny Isles
The Trump Royale Sunny Isles offers great amenities to its residents. The owners can enjoy all the amenities year round or they can rent out their condos for 6 months at a time.Following are some of the top amenities offered by the Trump Royale Sunny isles Condos:
Large Lobby Entrance
The Lobby Entrance is quite large, which is a two-story building. The Lobby Entrance offers a great many benefits to the residents and guests. A large lobby entrance has great receiving and seeing-off places. There are also several rooms in which people can have their private communication before parting. A large lobby entrance never gets too crowded. So, there is never a stifling environment in the lobbies. The large lobby is one of the main attractions, which satisfy clients at the first sight.
Tropical Landscaping
The tropical and stylish design of the lobby entrance area brings out beautiful nature and enriches the lives of all people. The tropical landscaping makes the trump towers in Sunny Isles look more welcoming, elegant, and warm. The natural and splendid tropical landscaping creates a Savannah near the beach. So, it becomes too tempting for the residents to say no to living in Trump towers. They have to concur on purchasing the apartment once they have entered the building.
Access to 1000 Feet of Beach Front
The Trump Royal of Sunny Isles offers increadible beach, which stretches for miles and miles. At the beach, kids and families can enjoy great private time. The proximity of units to the beach water is one of the main reasons why people get interested in the Trump Royale Sunny Isles tower. Florida is famous for its beaches, and we offer a luxuriously built trump tower, which securely gives access to a large and beautiful beach. The sand and the crashing waves are all yours when you purchase the unit or units in Trump Royale Sunny Isles.
Outdoor Private Reception Areas
You can also utilize the private outdoor reception areas so that residents can enjoy hosting a party. Outdoor reception areas can be used for a variety of purposes. Residents can host or hold educational seminars, informative sessions for any lectures or classes or other types of functions. They do not have to travel to any other place for hosting a seminar or a party. The towers offer elegantly and magnanimously built reception areas for different events.
Center of Water Activities
In the Trump Royale Sunny isles, you can also find a large center of water activities. The management of Trump Royale Towers ensures that residents enjoy different water games so to relax and loosen a bit. There are controlled lap pools, breach-grade or sloped entry,and waterfalls. In the water activity areas, residents can enjoy drinks from the bar and enjoy the food of the grills area.
Larger Dryers and Capacity Washers
Your maids or house help can easily get done with washing clothes in Trump Towers. Management has installed larger and better capacity washers and dryers. So, residents can easily wash clothes as well as dry them without washing them a great amount of time.
Duplex Spa in the Tower
Residents can also benefit from the duplex spa, which is 8000 square meters long. The length and width of the spa create a soothing and peaceful environment inside the spa. Every individual can relax and spend quality time, getting spa treatments. Residents do not have to travel to far places to avail themselves of spa services. Just go a few stairs down, and find the duplex spa.
Private Elevators
Residents also get access to their units by using private elevators. The elevators are high speed, which works most efficiently. The design of the elevators is also royale and elegant.
Hurricane-proof Windows
The windows of the Trump Royale Sunny Isles towers are hurricane-proof. This means that no hurricane can cause any damage to the tower.
HVAC System
Every apartment has its HVAC system. The residents control the HVAC system with great convenience. The HVAC system has personal climate control.
Full-Service Car Wash and Valet Services
The Trump Royale Sunny Isles also offers great valet services. So, owners of apartments do not have to wander their cars in the city to get their cars washed or polished. Just make a phone call to the staff members, and they will have your car washed in no time.
Last but not the least, Trump Royale Sunny Isles also offer amazing residential features. It has glass windows, large terraces, customized kitchen cabinets, spacious dining areas, smart stainless steel kitchen ovens, stylish countertops, an amazingly decorated bathroom, and more.
All in all, Trump Royale Sunny Isles offer all kinds of features of an elegant and excellent residential apartment. The amenities, offered by the management, increases overall worth and luxury of the apartment. Besides its structural elegance, the amenities enhance its overall beauty and structural elegance to a greater extent.