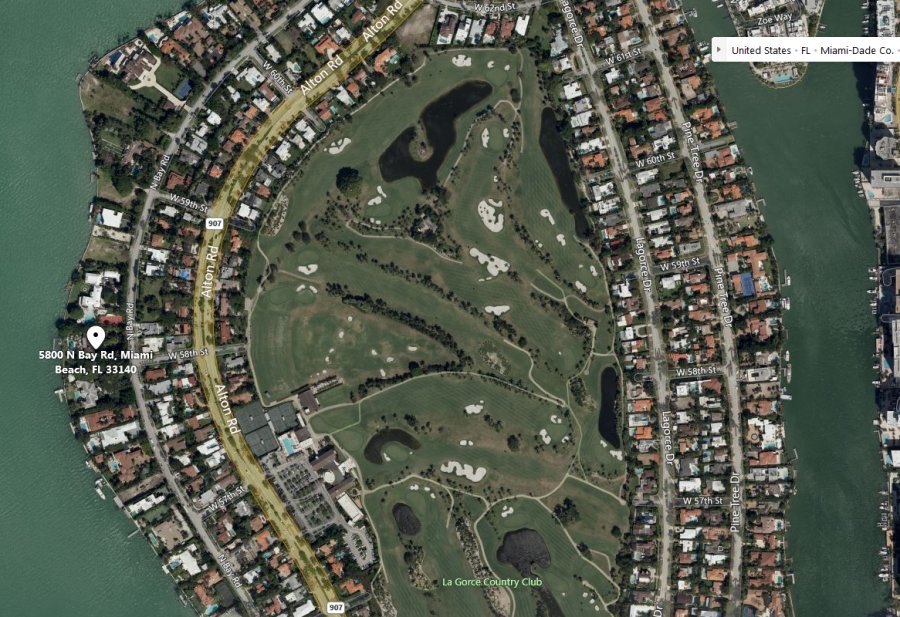 In the beginning of 2020 the Ex-Husband of Ex-Wife of Phil Collins listed a luxurious waterfront mansion in Sunset Islands for a cool $20 million. Amidst a genuinely messy divorce that took place between Phil Collin's ex-wife, Orianne Collins Mejjati Alami, and her ex-husband, Charles Fouad Mejjati Alami.
Messy Divorce Proceedings
Charles Fouad Mejjati Alami was the listed owner of this expansive home with almost 10,000 square feet of space. The mansion is located at 1525 West 24th Street in Miami Beach with a current asking price that averages out to a little over $2,000 a square foot.
Orianne Collins Mejjati Alami filed for divorce from Charles Fouad Mejjati Alami back in early 2016 with a claim that she owned the home. She further explained that Charles Fouad Mejjati Alami was transferred the title of the beautiful home "through deceit and fraud upon the wife," according to public court records. The divorce was initially completed in spring of 2017, with an amended final judgment in September.
Most of the court documents related to the messy proceedings are now sealed, but it was reported back in February that Orianne Collins Mejjati Alami was looking to nullify an older settlement agreement made out of court which placed the title for the Sunset Islands home with Charles Fouad Mejjati Alami, to begin with. She explained at the time that she had no memory of signing the property as she was on painkillers prescribed for a painful back operation.
Original Purchase of the Sunset Islands Home
A look at property records shows that in 2014, the mansion's title was passed over to Charles Fouad Mejjati Alami. He and Orianne Collins Mejjati Alami purchased the property in 2012 for an estimated $8.4 million.
The extraordinary dwelling features seven bedrooms, eight full baths, and two half baths. It was built in 2005 and includes a two-level foyer with double grand staircase, fireplace, gourmet kitchen, formal dining room, breakfast room, maid's quarters, and family room complete with wet bar. The master bedroom has two full baths along with his and hers closets with a full-length balcony that overlooks the water nearby.
On the nearly 10,000 square feet, there is also a rooftop terrace, two two-car garages, interior courtyard, private gym, home theater, elevator, clubroom, pool, and an exclusive boat dock. Many one of a kind features abounds in and on the property with custom Fendi design and amenities that discerning buyers will appreciate.
Phil Collin's Property
Since then she has gotten back together with Phil Collins but only for a brief moment. Collins settled with his ex-wife Orianne nearly $47 million after the couple divorced in 2008, however Orianne managed to get married twice since then. She met her most recent husband Mr. Bates in Las Vegas and soon after the couple became married. They moved into the marital property at 5800 North Bay Road Home in Miami Beach and now, they refuse to vacate the property.
Phil Collins has listed the property for sale but his ex-wire wants half! She already refused several showings and hired armed guards to protect the property. Phil Collins filed a law suit against the newlyweds alleging unlawful detention and forcible entry. The high-end residential Miami market became very active once again in the recent months, especially during the third quarter for the luxury single-family home segment. In fact, it had increased over 71% and year-over-year with over 170 closings in Miami Beach alone.
As of right now, Phil Collins biggest worry is about his personal memorabilia property which includes the Alamo collectibles. However, Orianne's new lawyer, Richard Wolfe, states that most of the personal property, including furniture and memorabilia, is "the legal and equitable property of Orianne."
The 5800 North Bay Road home was the former home of pop-singer Jennifer Lopez. Collins bought the home in June of 2015 for about $33 million. The mansion includes seven bedrooms, eight full baths, three half baths, pool, jacuzzi, and more.