Sunny Isles Beach Real Estate in 2019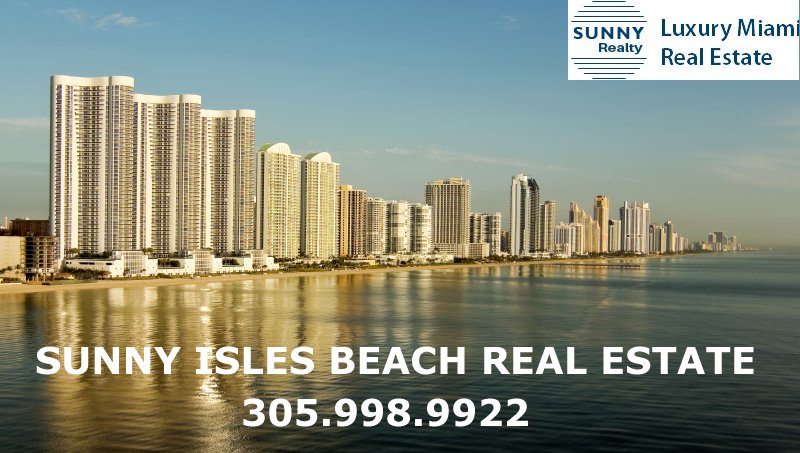 Sunny Isles Beach, Florida is a city located on a small barrier island bounded by the Atlantic Ocean on the East side, the Intracoastal Waterway on the West side, Golden Beach on the North and Bal Harbour on the South side. It offers about 2.5 miles of newly built most luxurious oceanfront condos with an average listing price of over a million dollars and ranging on the high end into tens of millions of dollars. Because of its ultra high-end condos, the city has earned several nick names such as 'The Venice of America', 'The Florida's Riviera', 'The Billionaire's Row' or 'The Billionaire's Beach'.
The concept of "condominium" living has been redefined by the new, brand-named condos offered in Sunny Isles Beach. These are more like private mansion in the skies, serving to the most discrete buyers looking for top amenities, private beaches, 5-star in-house dining, various sports and fun activities and spectacular views – the sunrise and the sunset as well as downtown Miami and the Intracoastal island life. Sunny Isles Beach also offers some of the most pristine single family homes located in an area called Golden Shores, which is situated directly across the street from the beach and offers easy access to major shopping in the area.
Sunny Isles Beach has always been thought of as a great investment community for many reasons – it offers top luxury condos situated directly on the beach, ample parks, warm tropical climate, warm Atlantic ocean waters, diverse culture, fine restaurants and great shopping are all within the short walking distance from your condo. The luxury condominiums turned Sunny Isles Beach into one of the most desirable places to own a home in the country, and you can ensure that Sunny Isles Beach real estate will continue to attract most sophisticated buyers in the world.
If you're into activities, no matter what your sport of choice is, Sunny Isles Beach has it all – from various beach activities such as parasailing, jet skies, fishing, diving, boating or just sun-bathing – Sunny Isles Beach offers the best of all the worlds!
Although the luxury condo market, in most of the desirable areas such as Aventura, downtown Miami, Miami Beach, Key Biscayne, have experienced a slight drop in value in 2018, Sunny Isles Beach showed a 1 percent increase from the prior year. Year-over-year, the inventory marginally declined 2 percent from 1,541 listings to 1,510 homes for sale on the market.
Housing Marketing Predictions – 2019 – Sunny Isles Beach Florida
Since the area did see a drop in the past years, the area continues to grow which has led local governments to carefully examine and properly assess the real estate taxes and to get the correct outlook and forecasts on the future real estate market values in 2019. However, as of the beginning of 2019, the Miami-Dade continues to see decent gains in property values, mainly due to continued demand for single-family homes in the mid-range markets, where countywide, property values grew 3%.
The market has been very active during the last quarter of 2018 and into the beginning of 2019 which is a good indication for good things to happen in 2019. The higher-end properties however are still going to decline due to market correction in that segment. With the prices coming down 20 to 30 percent lower, the higher-end properties will become attractive again to investors and end users, so it will be a good time to buy again.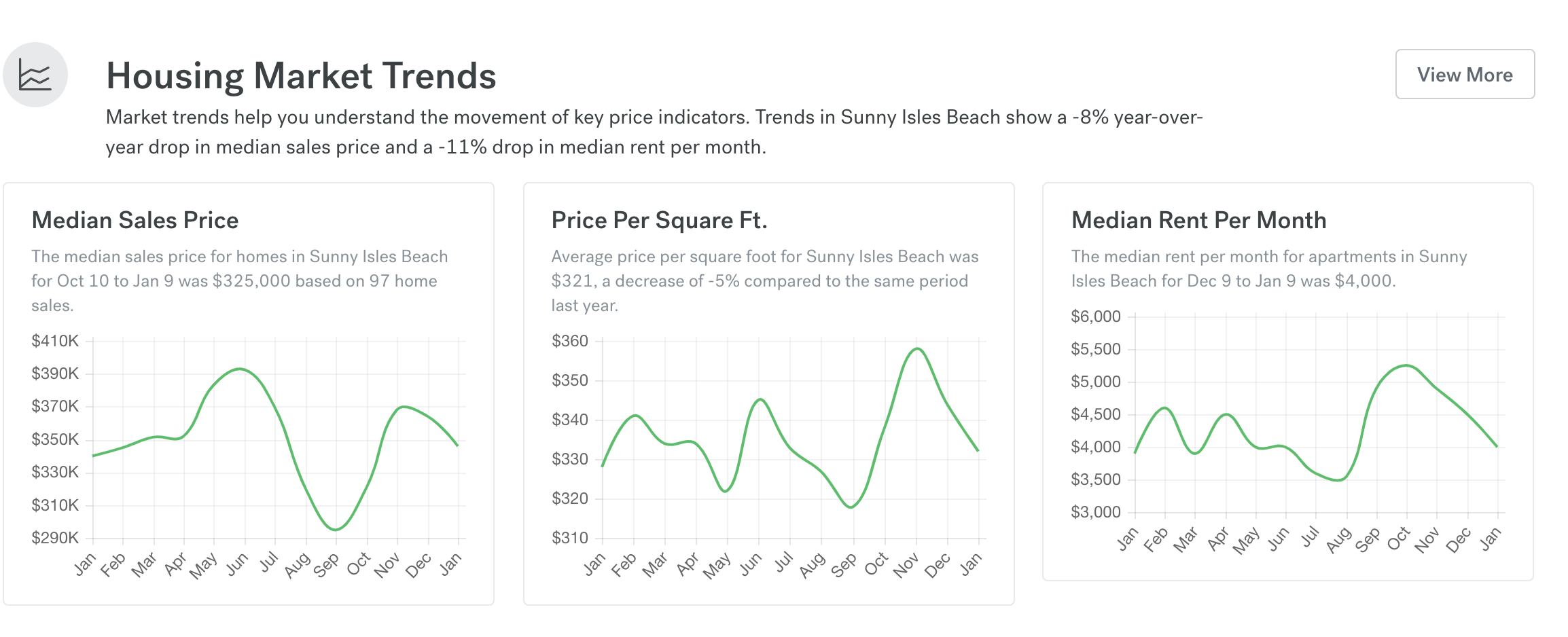 The table below, taken from Zillow.com represents the real estate facts and average home values in Sunny Isles Beach.
Sunny Isles Beach Real Estate Facts
Total Homes for Sale: 1,617
Median Home Values Estimate: $405,800
Home Value Forecast: -1.9%
Average Home Values by City
Sunny Isles Beach – $405,800
Aventura – $342,900
Bal Harbour – $1,043,000
Bay Harbor Islands – $289,300
Golden Beach – $932,400
The median home values have risen from below $400,000 to $405,800 for the area. Although the home value forecast is still in negatives, with the new condos hitting the market in 2019, this for sure will change to a positive number by the end of 2019. With Sunny Isles Beach being not the most affordable, but surely not the highest priced in the area, next to Bal Harbour. It is expected that these prices are going to drop first before they start to rise again.
Sunny Isles Beach Insights 2018
According to the graph below courtesy of Trulia.com, Sunny Isles Beach is a very well-organized community that is dedicated to those that are living in the area. With the majority of those living in the area holding a degree, the area continues to be a favorite for those of all ages.
The housing market trends are also shown in the graph below provided by Trulia.com regarding Sunny Isles Beach condos and other properties for sale in the area. This provides more insight into the trends from the previous months leading up to this current month.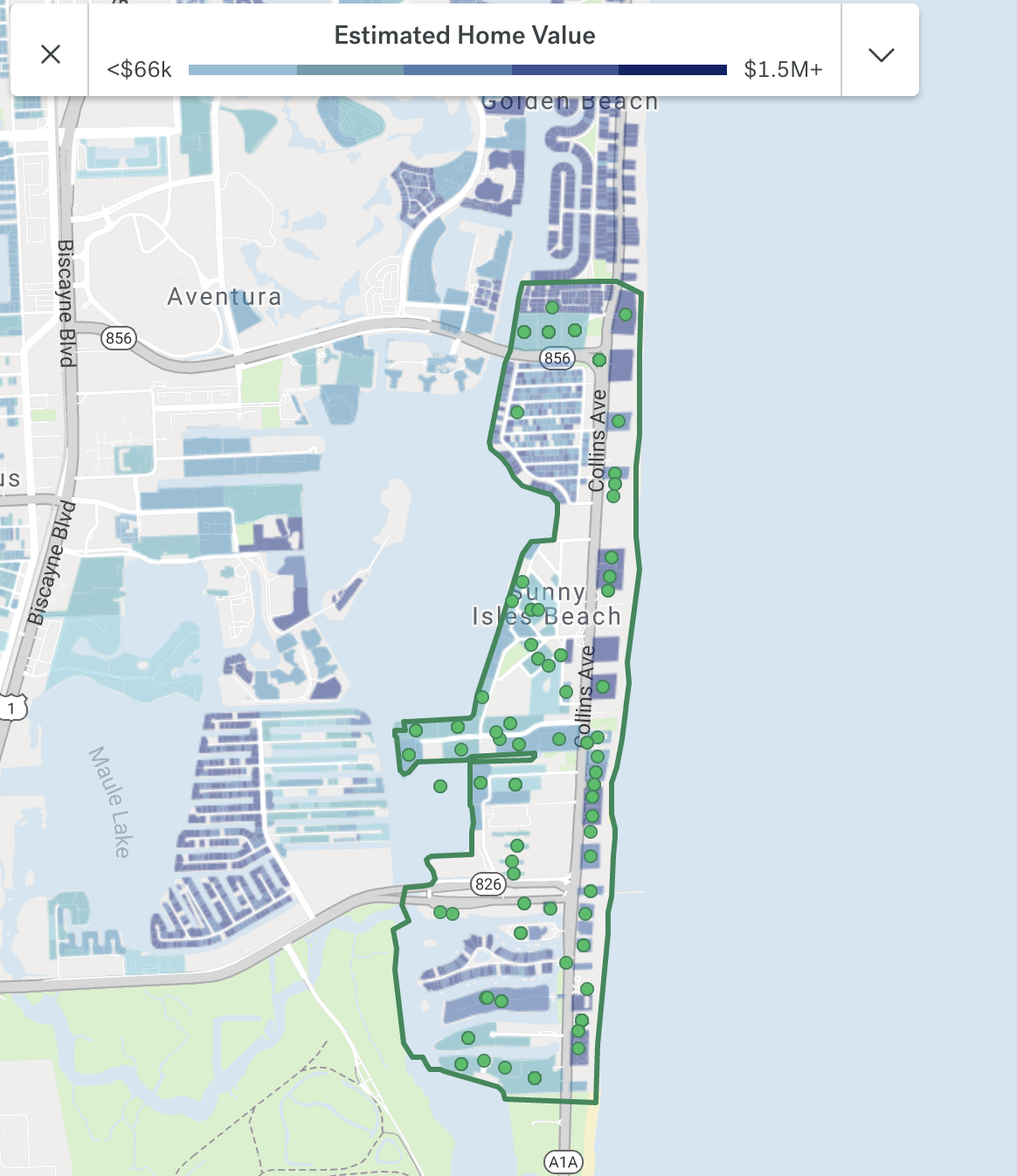 According to the charts, the median sales price for homes in the area from October to Jan was $325,000 based on 97 different homes during that time. The price per square foot for the properties in the area was $321. This is a decrease of -5% compared to last year's amounts. The decrease continued the trend to this year.
The median rent per month was around $4,000 between December and January, making it one of the bigger amounts in the area that is steadily going down in the cost per square foot to buy, while rent continues to be a large amount.
The trends continue to change with every passing month, making this something that continues to be talked about and investors continue to watch. With the prices falling low, the time to purchase real estate in the area is now. The prices per square feet are expected to rise again with the coming year according to numerous sources.
This additional chart shows the home values that are along the strip by the beach itself, providing further information and a graph that you can actually see the amounts side by side. This provides a good comparison for those looking to invest or purchase in the Sunny Isles Beach area.
Real Estate Appreciation
Neighborhoodscout took to tracking the Sunny Isles Beach real estate appreciation. This information was given to those that are looking to invest or purchase in the area and want to make an informed decision. According to the chart that they provide, Sunny Isles has many condos that have been performing above average.
The chart below, courtesy of Neighborhoodscout.com shows us that the top producing neighborhoods in the area are Collins Ave, N Bay Road, Bayview Drive, City Center and Bal Harbour Blvd. These areas are not only seeing a lot of development, but a lot of changes for the future.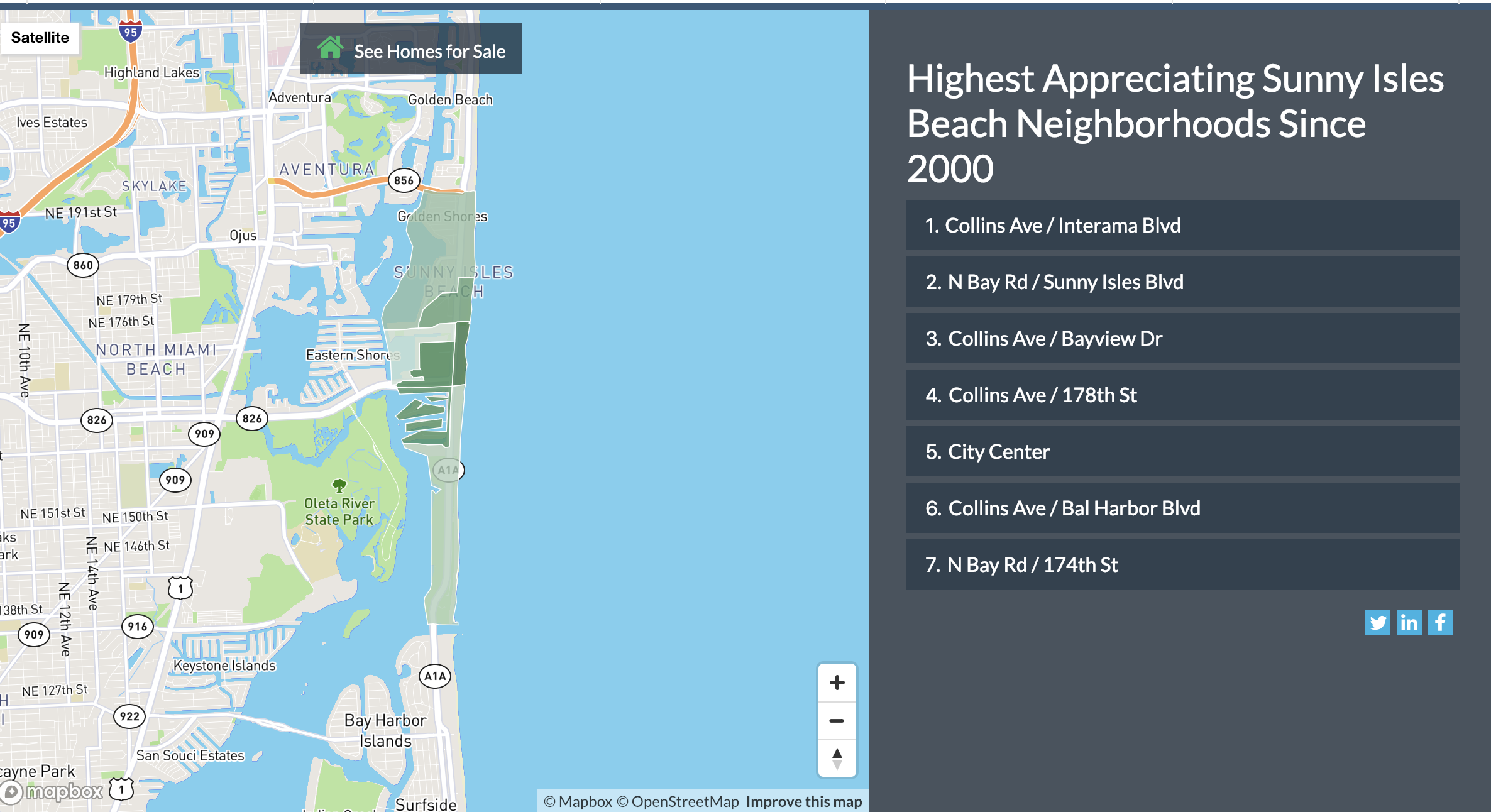 The number of homes and apartments in the area is over 10,000 with a median value over $600,000. The renting is at an all-time high, coming in at $2,500 for the available median values. With homes costing this low to purchase, yet renting being as high as it is, many investors are quickly purchasing the real estate below the current market value.
Purchasing it prior to having the assessments done on the buildings can help those investors that want to get a great deal, get one before the assessments bring the property value and taxes much higher.
The current market shows that more condos and apartments are provided in the area over single-family homes. This is making it easier for those moving to the area to rent a place prior to owning one, if they ever wish to in the area. Over 50% of these apartments and condos are in the two-bedroom range, providing a decent size for a large rent amount.
Reasons to Invest in Sunny Isles Beach
1. The Beach
This brings everyone and anyone around when it comes to investing in something. You will find renters from around the country, around the world, that choose to make Sunny Isles their home just for the simple fact that it is by the beach. Investors can charge more for ocean-front properties.
2. Limited Supply of Homes
There is currently not a lot to choose from for those that are moving to the area. Many of the rentals are already being rented and some of them might not suit the needs of the person. By investing in apartments or condos, you can have a prime rental that can easily be filled. There is unlikely to be any new building in the area in the coming years.
3. Strong International Market
Not just those from the area like to purchase real estate on Sunny Isles. Those from other countries like to purchase luxury vacation homes that they can use during the off-months. Providing a way for them to rent these during those months, and then provide rent for other months to other individuals opens up numerous options to the investor.
4. Massive Rental Population
Miami alone is a massive rental market, but when considering the amount of people that want beach homes, the rental population becomes even larger. Some are unable to pay high prices to purchase homes, so they rent for a specified amount of time. Those that are living in the area are used to the high rental prices and willing to pay for them in a nice condo or apartment.
5. The Job Market Continues to Grow
As more and more people continue to look for jobs throughout the Miami area, many will move to this area, as the job market continues to grow. According to Simply Hired, there are over 30,000 new jobs that need to be filled with close to 3,000 of them being posted recently. This means more people will move to the area to find work.
6. Strong ROI for Landlords
Those that are renting to anyone coming to the area are going to experience a strong ROI on the investment that they make. There is a high demand for properties by the beach and Sunny Isles Beach is one of the premier destinations. This means having a lavish condo or a high-end apartment in the area is going to go for a decent amount of rent in the area. Throw in extra amenities, a pool, large deck and a backyard ocean and those renting the properties out are hitting a strong ROI.
7. It is Easy to Be a Landlord in Florida
Many states throughout the US have strict rental laws that landlords have to abide by when renting to someone. Florida does not have the same laws. They are a landlord friendly market and they ensure that you have the control if rent is not paid on time, or when there is damage done to a property. It doesn't matter who you're renting too, they ensure that all violations are taken care of; making is less of a burden for landlords.
8. Most Tourists and Residents are Renters in Sunny Isles Beach
Those that are coming to the area will need a place to stay. Many look for rental properties to turn into their vacation homes, regularly renting them every year at the same time. Those residents that live in the area will rent for some time because the prices to purchase may be too high or they may not want to deal with the costs of purchasing a home. Plus, renting also comes with amenities and extras, providing them with a care-free way of life.
Investing in Sunny Isles Beach Real Estate in 2019
Investing in Sunny Isles Beach condos and other properties continue to be a great choice to make. Not only is the area active and flourishing, but the prices are currently at its lowest point since 2012, making it an ideal investment. Additionally, adding in the cost of renting and you are easily able to rent the condos that you purchase, making up the costs that you've spent on them ten-fold.
Sunny Isles Beach has always been an investment playground for buyers across the entire globe. Not only that, but according to The Real Deal, Sunny Isles Beach is Miami's new billionaire playground, bringing in a much luxurious, lavish crowd that these condos and rentals can tap into.
Leon Bell is one of the sharpest real estate brokers specializing in Miami's residential and commercial real estate since 2003. After serving as a vice president of One Sotheby's International Realty and managing his own top-producing office in Sunny Isles Beach for over 4 years, Leon had launched his own brand - Sunny Realty. Leon is a new generation of technologically advanced realtors possessing in-depth knowledge of the local real estate markets. Because of Leon's technological background, he is capable of delivering unique, sensitive and valuable real estate information to his clients in a shortest period of time. Leon feels that the information is the only tool that will help his clients to achieve their real estate goals.
Latest posts by Leon Bell (see all)